ConXport Autopsy Table Electro Hydraulic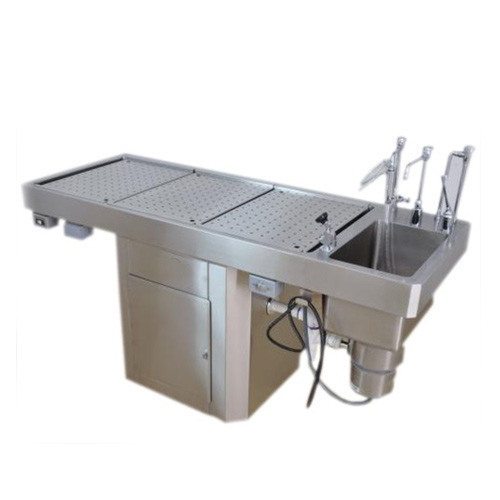 ConXport Autopsy Table Electro Hydraulic
Product Description
Electro Hydraulic Autopsy Table is manufacturedfrom 304 Grade Stainless Steel material
Autopsy Table is also known as Dissection table and PostMortem Table
This table is equipped with height adjustments.
These Tables provide efficient and smooth working surfaceto the Surgeons
It is an advance table which provides efficiency inautopsy procedures.
Autopsy tables have clean, hygienic platform forperforming autopsy procedures.
These tables have large radius inside corners for easyclean up
The table is Mounted on central supports column.
Autopsy Table Electro Hydraulic is Remote controlledheight adjustable from 75 to 100 cm
It has Double bowl sink
It comes with regulated sprinkler systems for tablesurface ensuring continues self-cleaning.
It has reverse-flow Hydro aspirator with built in vaccumbreaker.
The electrical outlets are splash proof
Electro Hydraulic Autopsy Table has 4 perforateddivisions for body support grid plates.
It comes with Hand shower.
The down-draft ventilation cone system is incorporatedfor minimization of odors if attached to external ventilation source.