Baby Transport Incubator Standard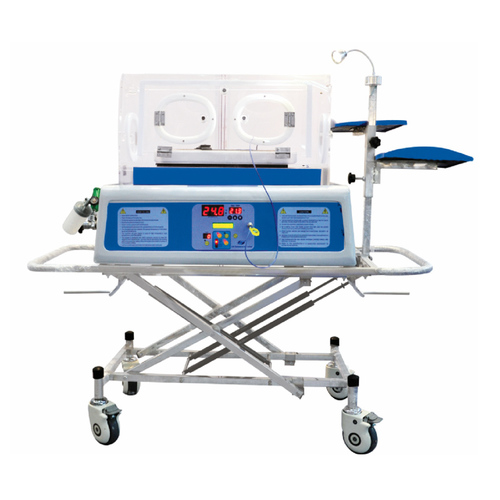 Baby Transport Incubator Standard
Product Description
ControlPanel : Thecontrol panel features a display which is easy reading at any angle duringtransportation. Display for air temperature and skin temperature helps tomaintain, control and provide essential information about the infants thermalsupport. Microprocessor controlled system has air and skin modes for operation.Display shows both temperatures. Air or Skin temp along with Set temp. Softtouch operation comes with digital display and extensive alarms.
PowerSource : BabyTransport incubator operates on AC or DC power using AC when available orswitching to its internal battery when necessary
Battery: Thebatteries used in the system are 12 volt 18ah. Sealed maintenance free VRLAbatteries.
TheCharge Time is 8-10 hrs. per battery from full discharge.
Singlewall Head Hood
ChassisBody : Plastic (fibre) for shock proof the system
Alarms
Skin temp low / high Probe failure Low battery Power failure System Failure Timer
Incase of high temperature. above 38 degree C, heater automatically cuts off to ensurebabys safety.
BabyTransport Incubator can be used on manual mode as well.
StandardFeatures
Single wall Hood Skin temperature probe / Air temp. Probe 2 accessdoors 1 baby belt Collapsible trolley
Features
Itcomes with Oxygen Cylinder, Pressure Regulatory Assembly, Flow Meter.
CollapsibleStainless Steel Stand
With2/4 no. gas springs for ambulance and in hospital transport purposes. Gasspring system allow the stand to collapse when the lever is pulled and trolleyis pressed from both the sides.
ControlDisplays
Batterycondition status : single led indication of low battery condition on the sidepanel
Powermode : illuminates AC, DC or external DC
Air/Babytemp C : displays incubator air temp / baby temperature
Temperatureset range : 32 degree C - 39 degree C
Tempvariability : 1.0 degree C
Tempuniformity : 1.0 degree C
Airfilter : removes airborne particles & dust
Easy Access : Quick and easy access through the side access door and front portholes. The side door folds down and the matteress retracts out from thehood to access for emergency procedures. The door and tubing ports offer ventilator tubing support .
Infantrestraint strap is attached to the baby bed.
Dimensionsin inches (Approx)
Heightwithout hood : 98cm
Incollapsible stand mode : 72cm
Hood : 122cm Width : 57cm Length : 132cm
Babybed : 50 x 27cm
Weight : 75kg
Backup : 60-90mns
Sizeof Castors : 12.5cm PU
Sealedmaintenance free battery : VRLA Batteries Charge time : 10hrs.(Approx.)