ConXport Dead Body Transfer Trolley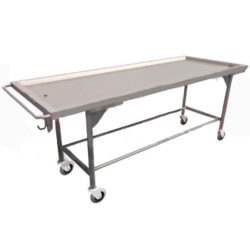 ConXport Dead Body Transfer Trolley
Product Description
TransferTrolley for Body is made of stainless steel 304 Grade
TransferTrolley is also known as Body Transfer Table.
Framework of Body Transfer Trolley is made of round tubes
Itis used to transfer the body of cadaver from one place to another (dead humanbody used in scientific or medical research.
Thebody section is mounted on 15 cms castors
Brakesare provided on 2 castors .
Ithas removable top with Stainless Steel handle
ProductSize: 210L x 55W x 80H cms
KnockDown Construction to save freight