ConXport . Digital Microscope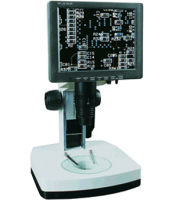 ConXport . Digital Microscope
Product Description
SPECIFICATIONS
Digital Microscope with high quality optical components, providing sharp and striking contrast image and ensure flatimage at big depth of field.
Ease the tiredness with ergonomic design. With Halogen light both incident and transmitted illumination, providing even illumination. It is an idealinstrument for industry assembling, inspection and teaching field.
Camera Specifications
Image Sensor : SONY1/2" CMOS
Valid Pixel : 1600-1200(2.0MP)
Pixel Size : 2.8m*2.8m
Digital Output : 24bit(color)
Image Format : FrameRate-1600 x 1200 7.5f/s:800 x 600 30f/s
White Balance : Manual/Auto
Output : AVFormat
LEDTV/Monitor
LED Size:
9.5/12.5 TFT LED Screen.
8 Languages menu changeable and blue background display.
All functions controlled by remote control.
Multi System, PAL/NTSC/SECAM
USB Support LED TFT Screen
Output:
S-videooutput for connect to external monitor.