ConXport Industrial Electric Suction Machine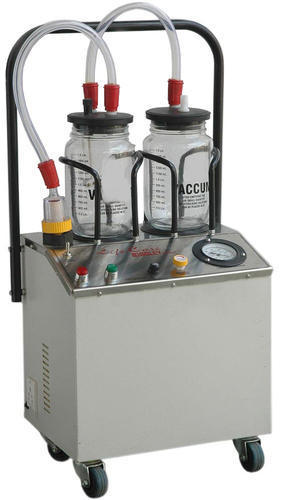 ConXport Industrial Electric Suction Machine
Product Description
Suction Machine Cabinetis made by mild steel with electrostatically powder coated Anti corrosivemounted on 63 mm diameter on (4) castors
Suction Machine isfitted with Reuseable Filter Jars : 2 x 2.5 Ltrs.
The Polycarbonate Jarsare fitted with lids with over flow protection mechanical type
Tubing is noncollapsible
Suction Machine hasstainless steel top.
Vacuum Gauge has 75 mmdiameter graduated from 0 - 760 mmHg.
Bacterial Filter areAutoclavable and Reusable
Pump is Oil ImmersedRotary Vane
Vacuum Capacity is -710mm Hg 10% at 32-35 LPM which is controlled by knob.
Noise Level<50 dB A 3 Almost Whispers
Motor is 1/4 HP, FHP
Power : 220/230V AC , 50Hz , 180W
The RPM of this machineis 1440