ConXport Electro Hydraulic Ot Table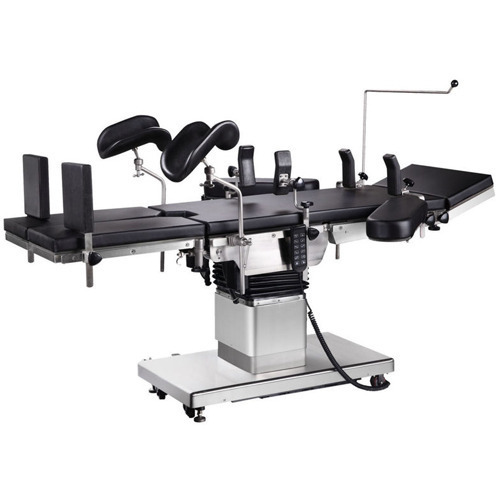 ConXport Electro Hydraulic Ot Table
Product Description
Stainless SteelFitting.
* Detachable head,leg & Pelvic section.
* Five SectionalRadio-translucent Top.
* Base & Covermade of attractive, easy to clean Stainless Steel.
* Sophisticated mechanicsprovide smooth, step less articulation of the table Top for precise patientpositioning.
* Stand by BatteryBack-up with recharging circuit.
* This Electrosliding top O.T Table is suitable for all kind of surgeries, i.e. generalsurgery, vascular surgery, cardio, neurology, urology, gynecology, proctology,laparoscopy, traumatic surgery, plastic surgery and others.
* The base &column of the table is made of high quality medical stainless steel (Grade -304).
* Non-reflectingsurface, antibacterial & easy to clean.
* We provide with atop sliding of 6inch back/forward.
* Height adjustment,Lateral Tilts, Trendelenburg and Flex - Reflex, Chair Position and LongitudinalSliding top are realized by Remote control.
Features :-
* 350 kg WeightCapacity.
* Center FloorLocking System.
* 580 mm Ultra LowHeight.
* 450 mm LiftingThree Stage Column.
Technical Specs:-

Length of Table

2000 mm

Width of Table Top

520 mm

Minimum Height (without Mattress)

Min. 580 mm

Maximum Height (without Mattress)

Max. 1020 mm

Trendelenburg

25

Reverse Trendelenburg

25

Lateral Tilt (Left/Right)

20

Back Section

85 Up / 60 Down

Head Section

80

Leg Section

0-90

Top Sliding

300 mm