ConXport Heat Therapy Unit 12 Pack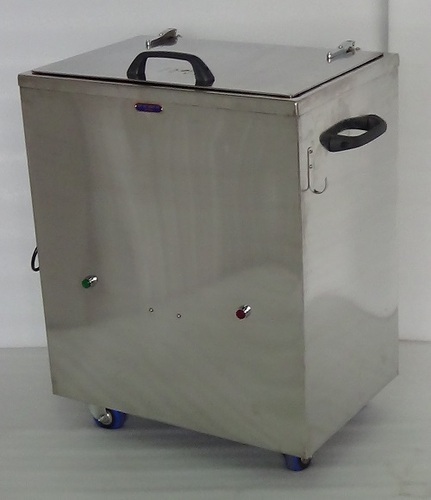 ConXport Heat Therapy Unit 12 Pack
Product Description
The specifically designed pack heating unit automaticallymaintain Hot Packs in water at proper temperature. Made out of heavy gaugestainless steel sheet, double walled & well insulated in between.
Construction : Unit's outer body made of 22 gauge& inner chamber of 20 gauge SS Sheet double walled, well insulated.
Dimension : Overall, approx 60cm X 40cm X 76cmhigh.
Heat Control : Thermostat to control Temperaturefrom 30 to 110 deg. cen. with 2 Pilot Lamps.
Heater : 2kw specifically designed Heater.
Pilot Light : Fitted with Two Pilot Light forMains & Thermostat.
Drain Out : A drain valve is provided to drain outwater for cleaning.
Mounting : Mounted on 75mm dia. 4 castors.
Finish : Polished Finish Inside.
Hot Packs : Total 12 of different sizes.
1. Six, Standard Size (25X30cm)
2. Two Half Size (12X30cm)
3. Two Neck Contour (60X15cm)
4. Two Full Back (25X50cm)
Accessories :
Two forceps to get out Hot Packs from hot water & PowerPin Plug.