ConXport JAR TEST DIGITAL LCD DISPLAY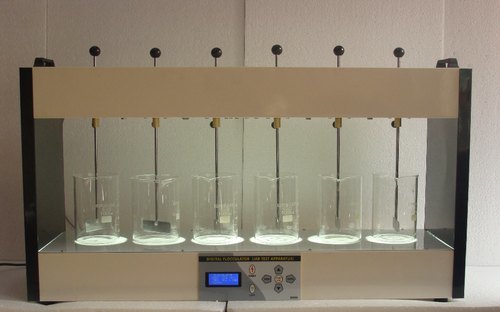 ConXport JAR TEST DIGITAL LCD DISPLAY
Product Description
Product Description we are reckonedentity of this domain indulged in providing an enhanced quality Jar Test Apparatus.

OtherDetails:
Specially designed for use in watertreatment plants t correctly estimate the dosing of alum and such othercoagulants for treatment of water and sewage.
In provides identical testconditions for all samples.
Illuminated base consists offluorescent tube mounted below translucent plastic plate to provide diffusedcold light through floc samples.
Flocculation consists of gearedcontinuous run heavy duty 1/20HP variable speed motor from 10-100RPM with builtin speed control SS stirring rods are provided with spacers to adjust the depthof stirring paddles.
The stirring shaft can be removedwithout disturbing other stirrers. 4 TESTS and 6 TESTS
Optional:
Digital RPM Meter
Digital Timer