ConXport Rotary Microtome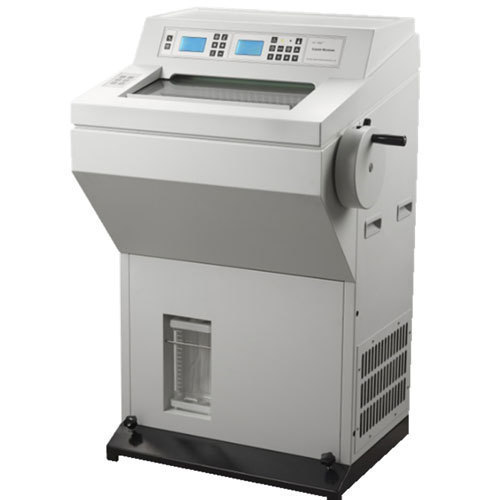 ConXport Rotary Microtome
Product Description
Rotary Microtome is a highly versatilesectioning device suitable for Medical Institutions, Research &Pathological Laboratories. This microtome has special application for cuttingthin sections of histopathological specimens and also caters to the demands ofindustries such as Plastic, Leather, Textiles, Rubber & Fertilizer. It isideal for those who want to avail advantages of a Rotary Microtome at amoderate cost.
The entire mechanism stands on a heavy cast iron base ensuring stability andrigidity. Its compound slide ways of critical tolerances guide the specimenblock. The metal hinged cover housing protects the internal mechanism againstdust and paraffin waste, it can be conveniently opened for resetting, cleaningand lubricating. The Microtome is driven by a handle which can also be locked.Cutting sections are obtained in different thickness by mechanically operatedcrank through a knurled knob in front of the instrument.
The knurled knob is graduated in microns forfeed setting and ready reference. A detent click action ensures positiveadjustments in one micron increment.