ConXport Table Top Steam Sterilizer 23 Ltr Made of Stainless Steel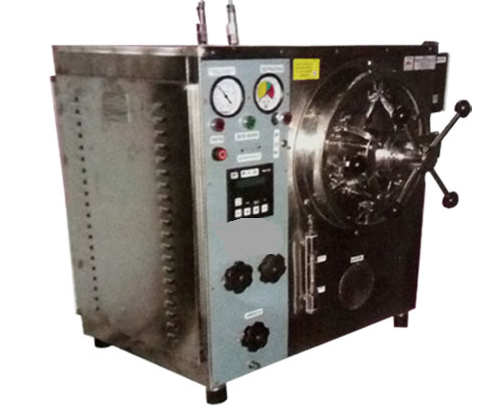 ConXport Table Top Steam Sterilizer 23 Ltr Made of Stainless Steel
Product Description
TableTop Steam Sterilizer has advanced sterilization technology
Ithas features for both pre & post vacuum.
Thisautoclave is made of complete stainless steel 304 Grade having outer &inner wall & has capacity of 23 liters chamber which has compact outerdimensions.
Thereis mineral wool insulation between the two walls .
TableTop Autoclave is designed to sterilize class B cycles.
ThisSterilization unit is used in dental and private clinics that need to sterilizenarrow and hollow instruments and wrapped packs.
Ithas 2 No. stainless steel perforated shelves.
Thewater reservoir has capacity of 6 liters of distilled or low quality deionizedwater.
Thissterilizer are designed to perform class B cycle that meet the strictest EN13060 European standards.
PreVacuum Air Removal feature is a part of Table Top Steam Sterilizer. Air istrapped inside these instruments and fabrics, resulting in air pockets thatprevent the full penetration of steam. It is known that spores and bacteria cansurvive at 134 Deg.C in air pockets. Therefore, pre vacuum air removaleliminates air pockets from all load types and maximizes steam penetration toinstrument components.
PostVacuum Drying feature is a part of Table Top Steam Sterilizer.When hot steamcomes in contact with the cooler instruments, condensation can form.Condensation becomes even more serious with packaged loads, when moisture canremain after the cycle ends. A moist load does not provide sufficient SAL(Sterility Assurance Level). Post vacuum drying provides complete drying ofporous loads and hollow instruments at the end of the sterilization process.
Temperatureis controlled by Microprocessed PID Controller which will have followingfeatures:
Autopurging: Set Temp.
PurgingStop: - Set Temp.
AutoExhaust:- Cool
ElapseTime
SetTemperature:- Can be set as desired
Facilityfor temp. Control
Autocycle stop
Buzzerat cycle over
OperatingTemp. 121 Deg.C to 135 Deg.C
SterilizingPressure 1.2 to 2.3 kg /Cm2
Pressurecan be achieved upto 760mm/ hg approx.
Thissterilizer work on 200/ 220 volts A.C 50 Hz