Vertical Autoclave Double Wall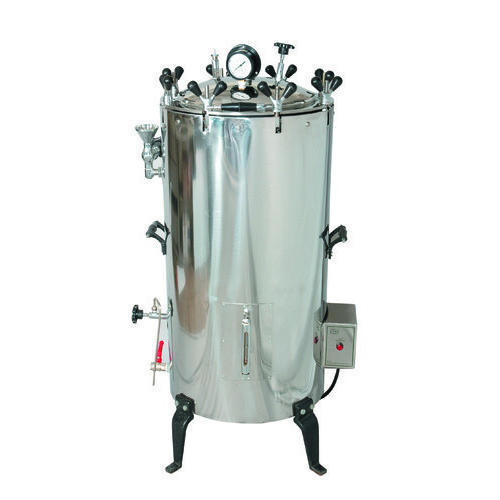 Vertical Autoclave Double Wall
Product Description
Vertical Autoclave Double Wall is made of Inner Stainless Steel and outer Mild Steel pre treated Epoxy Powder Coated
Vertical Autoclave Double Wall is electrically heated sterilizer under saturated steam of Adjustable pressure of 10 to 20 psi.
Double Wall construction with boiler & steam jacket is made of thick stainless steel and gap is filled with high grade glass wool to bring the temperature to a minimal level.
The outer chamber is made out of thick mild steel.
The lid is made of thick gunmetal plate and can be sealed by a jointless neoprene rubber gasket by wing nuts through hinged bolts by engaging slotted lugs on rim of the cover.
Vertical Autoclave is fitted with dial pressure gauge, air/ steam release cock, spring loaded safety valve adjustable to any required point from 10 psi to 20 psi with accuracy + 3 psi.
Draincock has also provided.
Adouble safety valve has also been provided along with inlet.
Optional Features on Extra Cost :
i)Automatic low-water level cut off- device.
ii)pressure Control switch.
iii)Water lever arrangement.
iv)Dressing bins for various size.
v)Radial lock.
vi)Digital temp. indicator