SEMI AUTOMATIC MICROTOME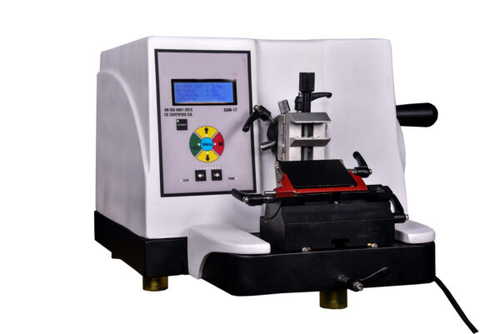 SEMI AUTOMATIC MICROTOME
Product Description
Ergonomic design, Compact Dimensions, Vertical guidance by zero-backlash and maintenance free cross roller bearings.

Electronic precision feed mechanism with stepping motor technology.

Especially smooth running hand wheel. One hand quick clamp change.

Fine orientation with one hand operation and zero positioning, easy exchange of specimen.

Specimen retraction during return travel, can be turned off. Indication of all relevant information such as section thickness, trim thickness, number of sections, section thickness remaining travel of the specimen feed as well as time and date. Reduced number of button intuitive operation.

Patented and ergonomic operation of the specimen feed with variable speed adjustment.

Indication of cutting parameters, can be switched over to large indication.

Large section waste tray, covering the entire working area.

Ergonomically optimized operating elements for non tiring usage.

Design with highest demands concerning operational safety and ergonomics.
TECHNICALDATA
Total section thickness range from 0.5 up to 100m.

Specimen retraction during return travel 0-200m, selectable.

Horizontal specimen feed Approx. 30mm.

Vertical specimen feed Approx. 60mm.

Sectioning Modes 1 Manual Mode.

Specimen Orientation Horizontal : 8, Vertical : 8, Z : 360.

Object feed 28mm

Max. Specimen size 50 x 50mm.

Operation Semi-Automatic.